Scoprire L'ingegneria
Accra was present in this event where different points of view of engineering are exposed. Accra was presented in the stand that SSSA had in the event,
where it can be found a huge poster with the main goals of the project and ASTRO Robot, as well as flyers of the projet that were distributed during the event.
14-15 October 2017
Pistoia, Italy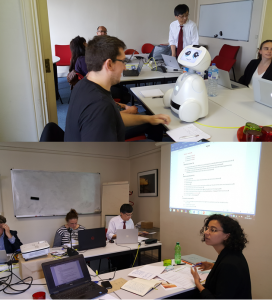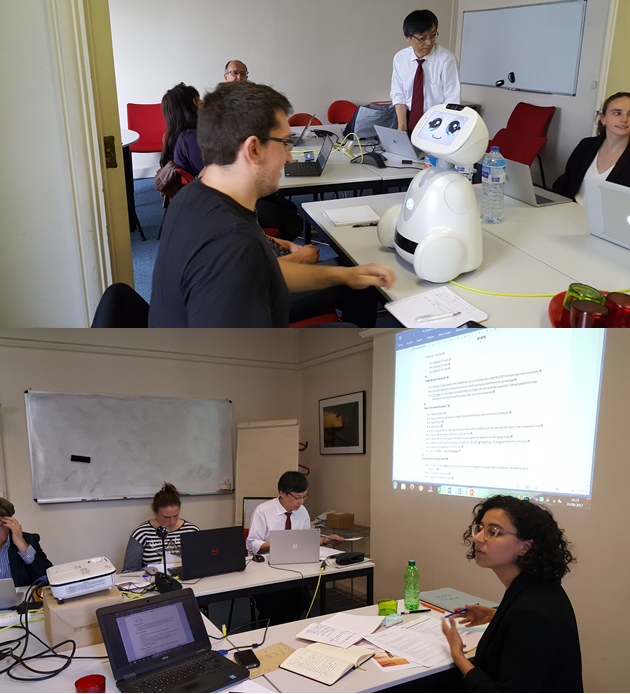 Accra cocreation phase Kickoff
Kickoff of cocreation phase was launched on 2nd october through a workshop between partners, in situ and remotely. Workshop started with the presentation of the methodology that will be applied.
How to handle a cocreation meeting?
Distribution of groups and recruitement of users, technicians and animators for the phase.
Agile loop for development of applications and platform, how to implement the cycle, advices, requirements.
These and more important questions, topics were explained during more than two hours in order to perform the future steps of the phase in a same way in all countries and pilots.
20th september 2017
Trialog headquarters, Paris
Accra presented at Festival Internazionale della robotica
ACCRA project was presented during this event by partner SSSA.
Official flyers were disseminate to people to present the project, where it is set the main important goals of the project in the different application and/or cases (mobility, daily life and conversation)
SSSA – Filippo Cavallo, Laura Fiorini, Alessandro Faggiani.
Pisa
7-13 September 2017

Accra presented at ForitAAL Forum, Geneva (Italy)
ACCRA project was presented during the "Assistive Robotics" session by Laura Fiorini of Scuola Superiore Sant'Anna at the 8th Italian forum of Ambient Assisted Living (forItAAL) which was held in Genova last June.
The forum was an important event of the Italian Assisted Living community which takes the occasion to share the research activities performed.
Proceeding:
SSSA - Laura Fiorini, Raffaele Limosani, Paolo Dario, Filippo Cavallo
IRCCS - Grazia D'Onofrio, Daniele Sancarlo, Antonio Greco, Francesco Giuliani
Trialog - Antonio Kung
14-15 June
Genova, Italy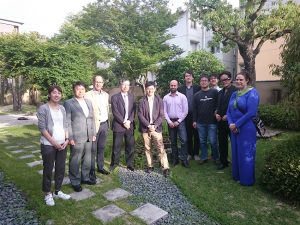 ACCRA Plenary Meeting in Kyoto (Japan)
Accra partners were joined during last month of May in Japan for coworking together in the project phase of needs study. The host was, this time, University of Kyoto. During two days of plenary meeting, basis were set up for the needs study phase: recruitement, interviews, analysis and conclusions.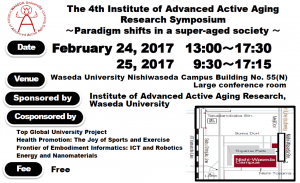 ACCRA presented in 4th Advanced Active Aging Symposium in Waseda University - Japan
Accra was presented during the last Advanced Active Aging Research Symposium that was celebrated in the Waseda University, Japan, last 24-25th February. This is the fourth AAA Symposium organized by the Institute of Advanced Active Aging Reseach of Waseda University, where on saturday 25th a brief presentation of Accra's purposes was exposed. The main goals of the project can be summarized in one, an Agile cocreation development process to get advanced ICT Robotics solutions through a flexible platform. Presentation showed the three main fields where the pilots will experiment in four different countries (France, Netherlands, Italy and Japan): Maintaining walking capacity, conversation rehabilitation and ageing well in daily life activities.

ACCRA kick-off meeting on December 6th, 2016 in Brussels
The ACCRA kick-off meeting will take place on December 6th, 2016 in the premises of the Ile-de-France office in Brussels.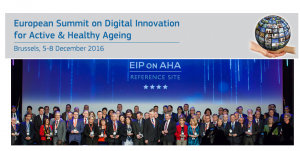 ACCRA to be announced during the Joint EU-Japan Global Innovation Forum on December 5th, 2016 in Brussels
The EU with the Government of Japan will organize the Global Cooperation event that will be dedicated to discussing strategies to strengthen international collaboration on innovation for active and healthy ageing and the global Silver economy. It will build on the conclusions of the G7 ICT ministers meeting in April in Japan and ongoing cooperation of the EU with the UN, WHO, OECD and G7 countries. It will be an invitation-only inter-governmental event with the aim to launch focused global cooperation actions on innovation in health and active ageing. The ACCRA project will be presented during the event.